Cleanroom Air Shower With Voice
  The intelligent voice air shower is equipped with a voice prompt system. When blowing, the automatic voice system prompts people to complete the entire blowing and dust removal process for an effective purification effect.
The clean airflow filtered by the filter release through the rotating nozzle. It is sprayed to the human body in all directions to remove dust particles. The removed dust particles are filtered by the pre-filter and recirculated to the air shower area.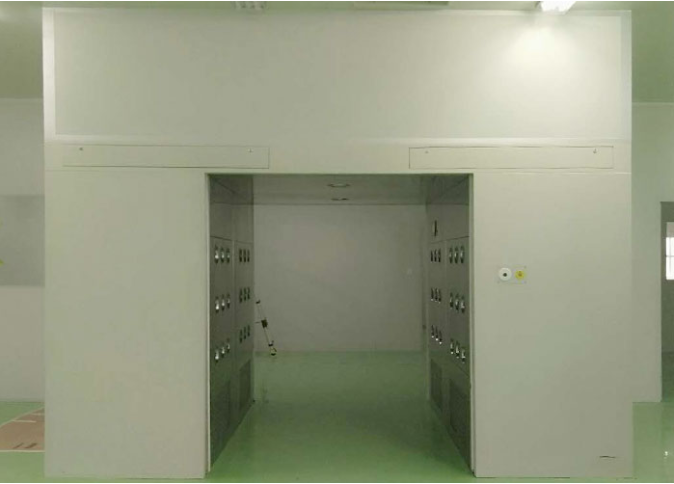 Intelligent voice features  
Fully automatic control, electronic interlocking double doors are locked when blowing, and infrared induction automatic blowing.

Stainless steel semi-glass door automatic door closer, transparent window, the inner low plate is made of stainless steel

Software test controller

LED display

Blowing time setting: adjustable from 0 to 99 seconds.

The inside zone adopts a round involute air duct, high air velocity and low noise.   
1. Humanized control panel design, clear indicator light, and clear air shower process instructions.   
2. High cleanliness and high air velocity
Air shower adopts AAF pre-filter and medium filter; no partition low resistance filter; the filtration efficiency is 99.99%
Air shower is equipped with all stainless steel multi-angle adjustable nozzles, double-volute outer-rotor high-volume and low-noise fan. The wind speed of the nozzle outlet is as high as 25m/s, and the air velocity is over 18m/s on the body.   
3. Modular structure
The air shower adopts a modular design scheme, which can be customized into various sizes of air shower according to actual needs.
Modular air shower is composed of multiple units. For large-volume air shower , it can be divided into multiple modules, making production, transportation, and installation convenient and fast.
4. High performance and high sealing
This air shower has imported electronic components, giving stable and reliable operation performance. Advanced noise reduction and mute device systems are equipped in the airshower.
High-quality sealing rubber creates airtightness for the airshower.
Vietnam Cleanroom Equipment (VCR) specializes in providing cleanroom equipment for construction contractors. We provide high-quality products with competitive prices and large quantities nationwide. The equipment includes:
Differential pressure gauge, FFU Fan Filter Unit, Pass box, Clean room air filter, HEPA box, Clean booth, cleanroom steel door, Isolator cabinet, and other equipment
For details, please refer to Vietnam cleanroom equipment official website
https://en.vietnamcleanroom.com
Related Articles