Cleanroom clothing: All you need to know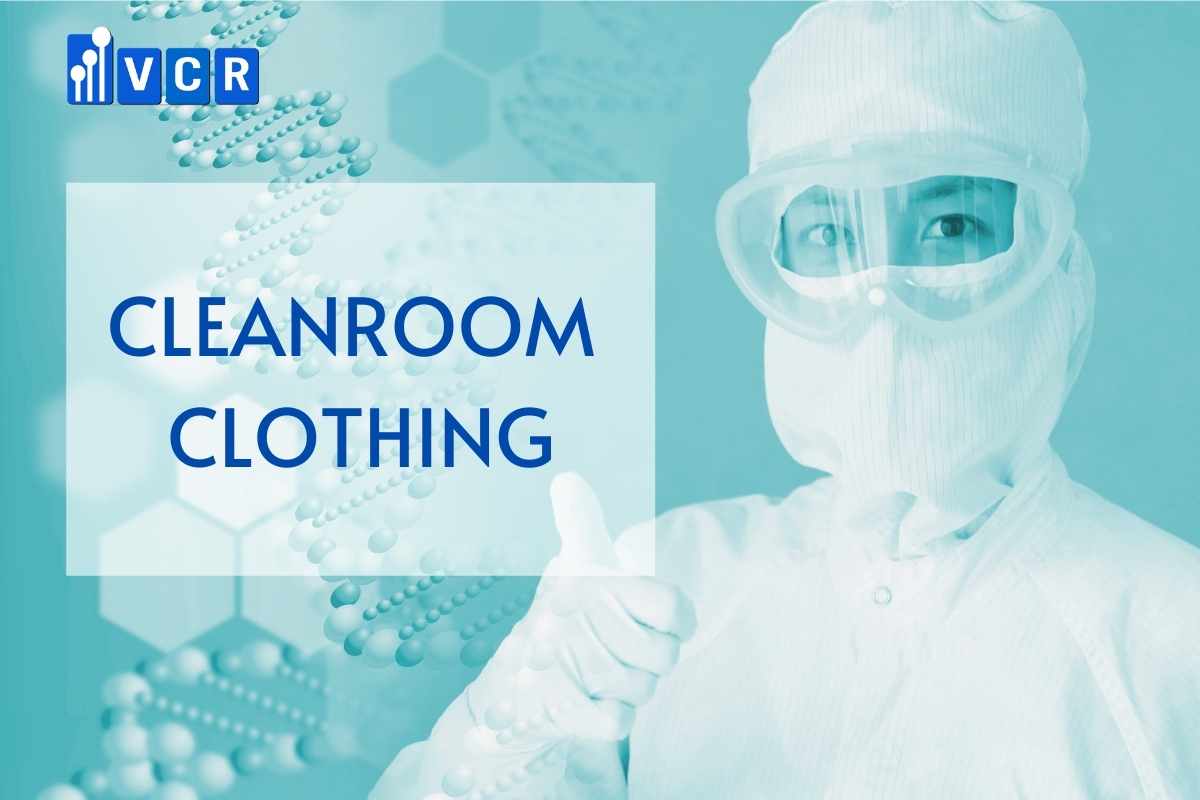 Human is the major factor in cleanroom contamination. 40% of all contamination in cleanrooms are caused directly by humans. Therefore, specific clothing is needed for personnel in cleanroom. This article will specify the use of cleanroom clothing. Let's find out!
1. What is cleanroom clothing?
Cleanroom clothing is what you wear in a cleanroom or in a controlled environment. It is a kind of PPE (personal protective equipment). Cleanroom clothing is designed to prevent the particles on human body from contaminating the cleanroom. Such apparel is also essential for protecting personnel, especially when they deal with chemical hazards.
Cleanroom garments are usually non-shedding, non-woven and safe to wear in a controlled environment.
2. Types of cleanroom clothing
Listed below are some types of clothing in cleanroom. The list is by no means comprehensive, but does offer a basis for your own list:
- Cleanroom suit (cleanroom bunny suit/ cleanroom jumpsuit/ cleanroom bodysuit)
- Face masks
- Cleanroom gloves
- Goggles
- Cleanroom shoe cover
- Cleanroom booties
- Cleanroom trousers/ cleanroom pants
- Cleanroom shirts
- Cleanroom coats
- Cleanroom hood
- Cleanroom coverall
3. Cleanroom clothing requirements
Different types and classes of cleanroom will require different cleanroom clothing standards.
Cleanroom gowning protocol is put into place to ensure contamination control and compliance with standards such as ISO, EU-GMP.
According to ISO classification, cleanroom frocks are allowed in ISO class 7 and ISO class 8 cleanrooms. Personnel entering ISO class 5 and class 6 cleanrooms have to wear cleanroom coveralls with hoods, gloves, and booties.
4. Material of cleanroom garments
The purpose of cleanroom apparel is to prevent the cleanroom from a human wearer. Choosing materials for cleanroom apparel is initial, but it is not easy.
Natural material such as cotton is not suitable for use in cleanroom, because they tend to generate dust and particles.
Synthetic, or man-made materials are preferred. There are 3 types of synthetic materials: woven, non-woven, a combination of woven and non-woven material.
Woven cloth from synthetic materials: A popular woven material for cleanroom garments is Dacron, which is low-cost and durable. Such material is very widely used in controlled environments, though it may not be the ideal choice for cleanroom applications
Non-woven cloth: A popular material is spunbonded polyolefin, also called Tyvek. It is low-cost, synthetic anđ extremely strong. It is a good barrier to particles and moisture.
A combination of woven and non-woven materials: Such combination exists in expanded PTFE laminate materials such as GORE-TEX. This material is strong, comfortable, reusable, has a long life, and may be used in the most demanding cleanrooms.
5. Disposable and washable cleanroom clothing
Washable cleanroom clothing
Washable clothing or reusable clothing is laundered in a special way to remove dirt and disinfect it without degrading the material.
Many ask "How often a washable cleanroom garment should be recycled?". It's such a hard question! There is a point that cleanroom garment is disposed of, which is related to the washing process. Monitoring the water quality from the last rinse cycle might provide data on how much particulate material. If the particulate level is high, the garment is expected to be contaminated.
Observation of the dust count in the air from the cleanroom dryer also indicates the condition of the clothing. If the air is contaminated, so is the clothing.
Besides, there are many methods to test how effective the laundering is and also how well the garment material is holding up, such as the ASTM vacuum filter test, Helmke Drum, etc.
Disposable cleanroom clothing
High-class cleanrooms opt for disposable clothing because it is the safest and most cost-effective choice. Disposable apparel should be high quality and comfortable for employees.
A large number of cleanrooms use a combination of washable and reusable clothing. For example, cleanroom hoods can be laundered and reusable, but shoe covers are disposed of after each use.
Choosing disposable and washable cleanroom garments is determined by considerations, such as the type of clothing, convenience, cleanroom classification and application, etc.
6. How to choose cleanroom clothing
When choosing cleanroom clothing, there are following factors you need to consider:
• Material (woven or non-woven, flame-resistant, biohazard-resistant,…)
• Hazardous risk protection
• Quantity
• Size
• Disposable or washable clothing
Related Articles