Dispensing Booth: Definition, Specifications & More

1. What is dispensing booth?
Dispensing booth is a kind of purifying equipment for materials sampling, weighing, and analysis.
Dispensing booth prevents the operators from powder contamination, thereby providing a safe and clean working environment.
Dispensing booth is also called a sampling booth, a weighing booth, a downflow hood, or a powder containment booth.
2. Dispensing booth components
Dispensing booth includes the following main components:
Pre-filter - 10 micron

Fine filter - 3 micron

HEPA filter

- 0.3 micron
Differential pressure gauges for the pre-filter, fine filter and HEPA filter

Lamp

Fan

Fan, lamp switches

DOP ports for HEPA filter integrity

Power sockets
3. Dispensing booth working principle
The laminar airflow comes down from the booth ceiling, and takes dust particles back into the back filters through 3-stage filtration, then the air is recirculated.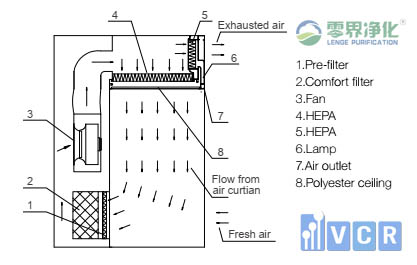 4. Dispensing booth features
Negative pressure design

Unidirectional airflow provides a superior aseptic working area

Stainless steel SUS 304 construction makes dispensing booth clean, hygienic, and easy to clean

3-stage filtration method (pre-filter, fine filter, and HEPA filter included) provides excellent efficiency

Ultra-quite noise level of not more than 65 dB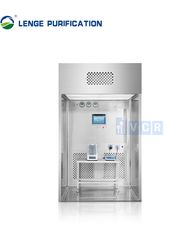 5. Dispensing booth applications
Dispensing booth is used in the pharmaceutical, fine chemical and food industries, for operations such as grinding, dispensing and filling which generate airborne particles; when:
processes involve hazardous, toxic materials

operators, adjoining areas require protection from exposure to aerosols of the process materials
6. Dispensing booth specifications
External dimensions (WxDxH): 2030x1920x2670 cm
Internal dimensions (WxDxH): 1930x1320x2000 cm
Power: 2KW
Power supply: 380V/50Hz
Noise: 65~75 dB(A)
Air velocity: 0.45m/s (90fpm) ±20%
*Customized design is welcomed
Vietnam Cleanroom Equipment (VCR) specializes in providing cleanroom equipment for construction contractors.
We provide high-quality products with competitive prices and large quantities nationwide. The equipment includes:
Differential pressure gauge, FFU Fan Filter Unit, Pass box, Clean room air filter, HEPA box, Clean booth, cleanroom steel door, Isolator cabinet, and other equipment
Related Articles