How to choose the right cleanroom door interlock?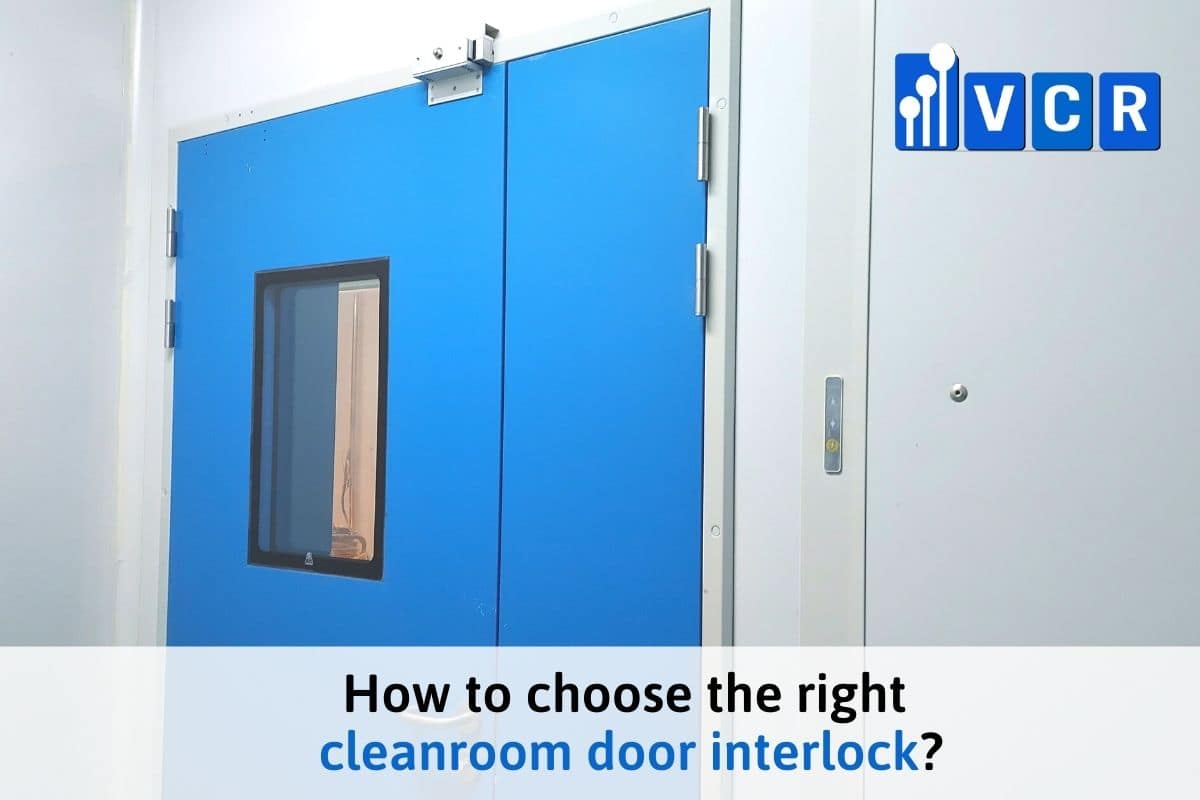 Door interlock is a device applied a lot in controlled environments. It controls the operation of doors during the entry and exit process. We cannot open one door until the other door is closed.
Not only in controlled environments, but many industries also adopt door interlock systems as well. These include casinos, armored vehicles, prisons, police stations, medical and pharmaceutical manufacturing facilities, R&D institutes, high-risk retail stores such as doors jewelry stores, cash-out facilities, schools, and laboratories.
To choose the right type of door interlock for your application, we need to grasp these things below:
1. The types of door interlock system
Door interlock systems have different names based on their function and are commonly referred to as one of the following: Interlocks, Sally Gates (for vehicles), secured vestibules, and secured vestibules.
For door interlocks: With cleanroom equipment, an individual will be granted access through a door into a tightly controlled area. After the first door closes, the second door can then be opened automatically or activated by the operator.
Sally Gate is an interlock system used to control vehicle entry/exit by doors, gates, or bollards.
A secure corridor is a defense against electronic surveillance and data leakage.
The airlock is a system with multiple doors linked together. When opening any door, it will lock the related doors so that only one door can be accessed at a time, in a designated area.
2. The purpose of using door interlock
Are users trying to protect property and people, control traffic, or both? What threats are we trying to mitigate? We will then need to select a suitable system based on all the required factors.
Interlock door locks may also be available with different functional modes, such as intercom, biometrics or fingerprints. Another question to answer is do you want your system to be discreet or not? Or will you require operator and travel control?
We need to clarify them before making the final choice.
3. Security requirements
One of the most commonly used applications of the Interlock system is in cleanroom environments. The interlock system will work in the following way: When opening one door, the remaining doors will close, after the door is opened and closed, the remaining doors can be opened.
Highest security is provided with a Restricted Access System whereby a door is unlocked only by an access request if no other associated doors are unsecured.
4. Appropriate interlock controller
An important consideration when choosing an interlock door lock system is the appropriate locking controller. You need to know you need to control the number of doors, the type of doors, and other monitored or controlled devices in the facility.
There are many types of interlock controllers for facilities with at least two doors or more, with features like emergency door opening inputs, timer adjustment, emergency unlocking, and more.
5. User instructions
Interlocking systems are often subject to specific construction requirements, so you must be knowledgeable in these codes to choose the right type. For example, some cities may not allow any doors in a public facility to be locked at any time.
Another example is in a cleanroom, where a door lock system may need to comply with Federal Standard STD 209E, or ISO14644. Even more, life safety rules may require the door locking system to be integrated with the facility's fire alarm control panel to allow for emergency exits. Alternatively, a local emergency pull station may be required to enable door unlocking in non-fire alarm emergencies or to interface the system with slow exit controls.
Understanding principles and standards helps to choose the right interlock
6. Understand the installation instructions
Facility managers should always be consulted when installing an Interlock locking system to ensure compliance. There are situations that will not allow any door locks to be restricted from exiting. In these systems, a display light is required to inform the status of the door. The display light is a visual guide to traffic control, often with a siren built into the system to give an audible warning if there is a violation.
Related Articles