Pass Box Design - Pass Box Structure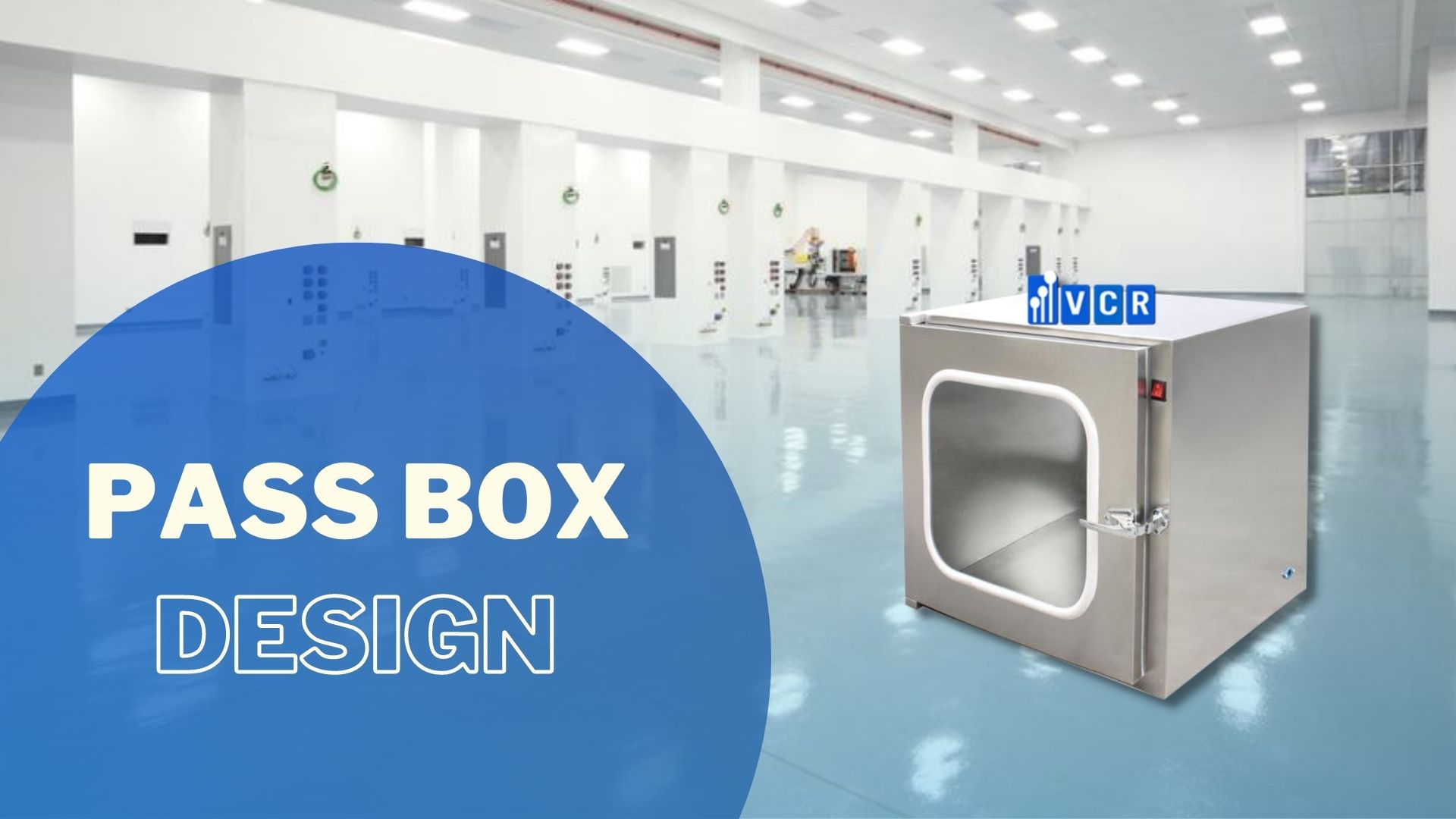 Pass boxes are divided into 2 types based on working principle: static pass box and dynamic pass box. These pass boxes have different designs and structures. In this article, VCR will provide the details about pass box design and structure. Let's find out!
1. Static pass box structure
Static pass box includes: Body, doors, interlock system, UV lamps

(1) Body, (2) Door, (3) Tempered glass, (4) Power, (5) Switch on/off, (6) UV lamp
Body: The body of the box consists of the outer casing and the inner chamber. The inner chamber is made of 304 stainless steel, while the outer casing can be made of materials such as 304 stainless steel, 201 stainless steel, powder-coated steel, etc.
When buying a pass box, we need to consider the external size and the internal size of the pass box body.
Doors: Two doors (one on each side) with tempered glass windows sealed by durable feather edge rubber prevents airborne particles contamination. Besides, each door has door handle. The door handles are different according to the types of interlock system pass box uses.
Pass box hinges made of SUS 304 stainless steel are durable and easy to clean
Interlock system: This is an important part of every pass box, ensuring two doors don't open at the same time. This prevents the risk of cross-contamination in clean rooms. Interlock system has two types: mechanical interlock system and electronic interlock system
UV lamp: UV lamps are designed inside pass box for disinfection of transferred objects before entering the cleanroom.
For the static pass box, electronic interlock system has a control system display and light on and off switches. There are power sockets and wires to supply power to the light and electronic interlock system.
2. Dynamic pass box structure
The dynamic pass box is known as the self-cleaning pass box. Dynamic pass box is different from static pass box. Dynamic pass box includes body, doors, interlock system, UV lamps, HEPA filter, fan and differential pressure gauge.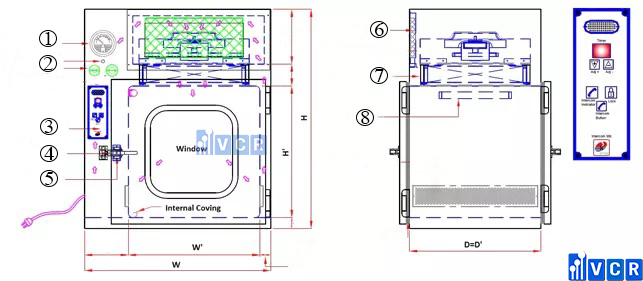 (1) Differential pressure gauge; (2) DOP/PAO test port; (3) Control display; (4) Door handle; (5) Interlock system; (6) Pre-filter; (7) Hepa filter; (8) UV lamp.
Fan: It sucks the air and blows it through HEPA filter. The clean air will go into the chamber to sterilize the objects
Pre-filter: G4 filter is used to remove large particles
HEPA filter: H13 or H14 filter with filtration efficiency up to 99.995% is widely used in dynamic pass box
DOP/PAO test port: Provision of DOP/PAO Test Port in dynamic pass box is available for HEPA Filter leak test and particle count.
Differential pressure gauge: It is used in passbox to check the differential pressure across HEPA filter
The article above is about the pass box structure. Hopefully, the article can help you answer questions about the structure of the two types of pass box.
Vietnam Cleanroom Equipment (VCR) specializes in providing cleanroom equipment for construction contractors.
We provide high-quality products with competitive prices and large quantities nationwide. The equipment includes:
Differential pressure gauge, FFU Fan Filter Unit, Pass box, Clean room air filter, HEPA box, Clean booth, cleanroom steel door, Isolator cabinet, and other equipment
Related Articles