Top 10 common cleanroom equipment in Viet Nam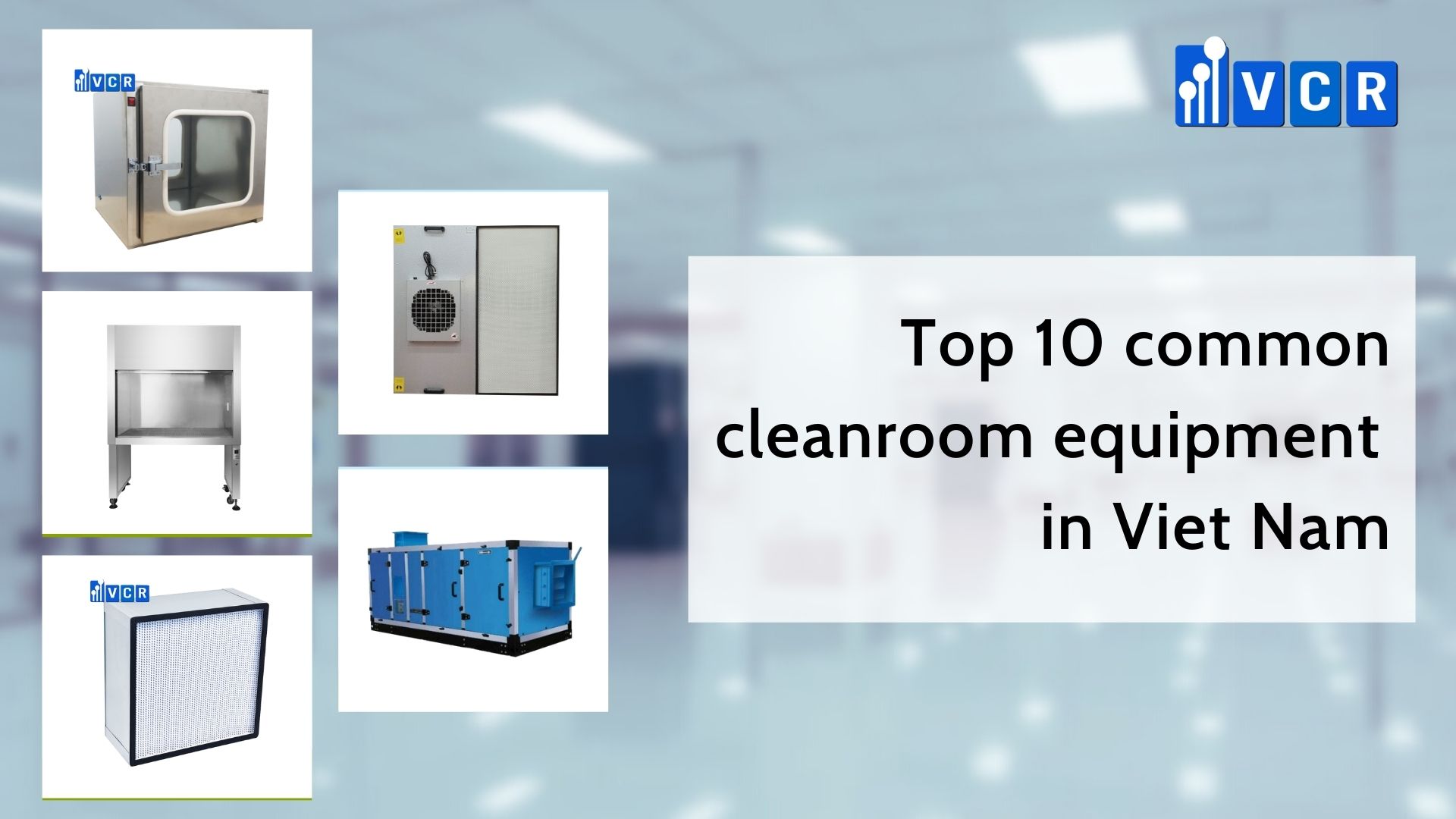 Cleanrooms are used in every industry where contamination can adversely affect the manufacturing process. Cleanrooms are applied in pharmaceutical, electronics, food manufacturing, biotechnology, etc. To optimize the function of a cleanroom, specialized cleanroom equipment is required. In this article, VCR will introduce top 10 popular equipment for cleanrooms in Viet Nam.
What is cleanroom equipment?
Cleanroom equipment is the equipment used in cleanroom. They work to create a controlled environment that meets the standards for a cleanroom.
1. AHU - Air Handling Unit
AHU is an indispensable device in a cleanroom. AHU is air handling unit, which can monitor temperature, humidity, and handle dust filtration in cleanrooms. It is usually installed on the ceiling of cleanroom to handle the air and push the air down to the cleanroom working area.
AHU plays an important role in cleanroom because it meets the ventilation requirements for purifying, air-conditioning, or renewing the indoor air in cleanroom – the leading factor in the cleanroom. Not only used in clean rooms, but this device is also a suitable option for large buildings with central chiller systems.
The construction of the AHU consists of a large metal box containing a blower, heating and cooling unit, filter, air intake, and exhaust air.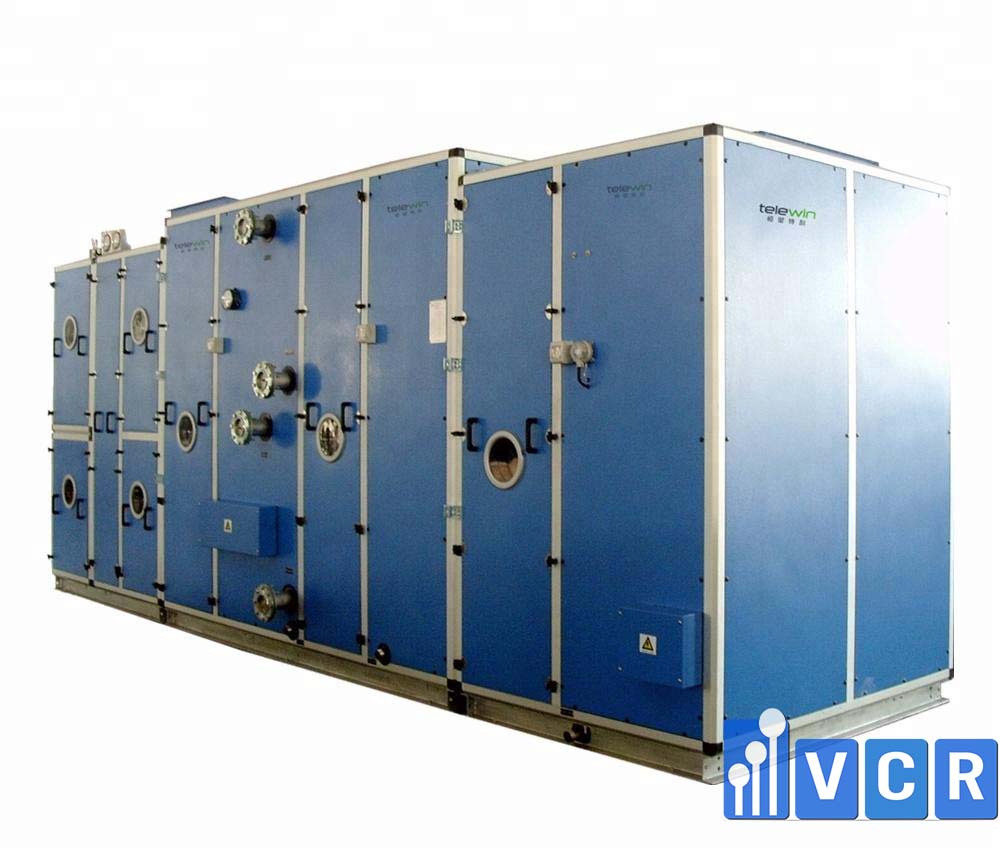 Image: AHU - Air Handling Unit
2. HEPA Box
HEPA box (cleanroom air supply door or cleanroom HEPA filter box) is the terminal device in the cleanroom purified air supply system.
HEPA box adopts HEPA filter inside. Therefore, air going through HEPA box will be purified before entering the cleanroom.
It is commonly used in class 1000, class 10000, and class 100000 clean rooms.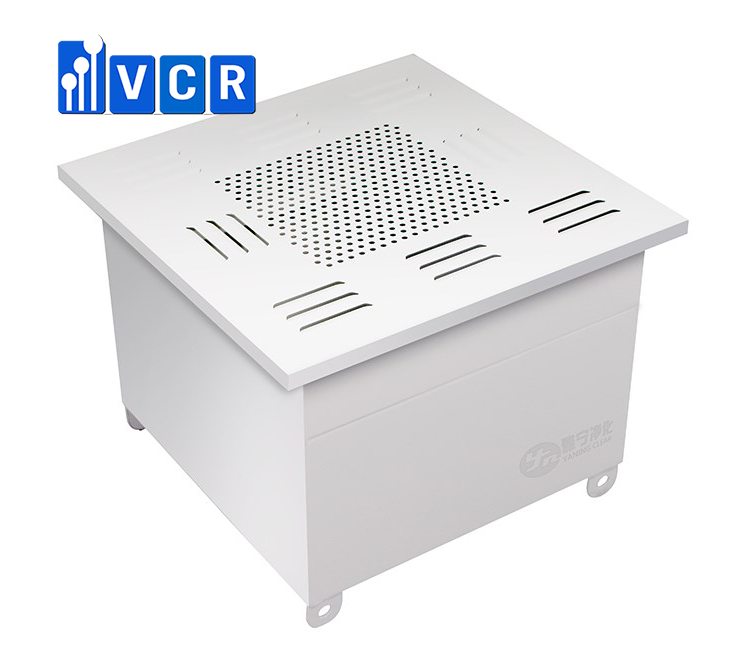 Image: HEPA box
3. Air filter
Air filter is a key factor in every cleanroom, which creates clean, dust-free air for the cleanroom. Air filters are divided into three types: pre-filter, medium filter, and high-efficiency filter (HEPA filter, ULPA filter). In addition, within each type, there are different filter levels for different filtration performance.
Air filter is not only used in cleanrooms but also used a lot for air purification in daily life. It is an indispensable part of every air purifier on the market.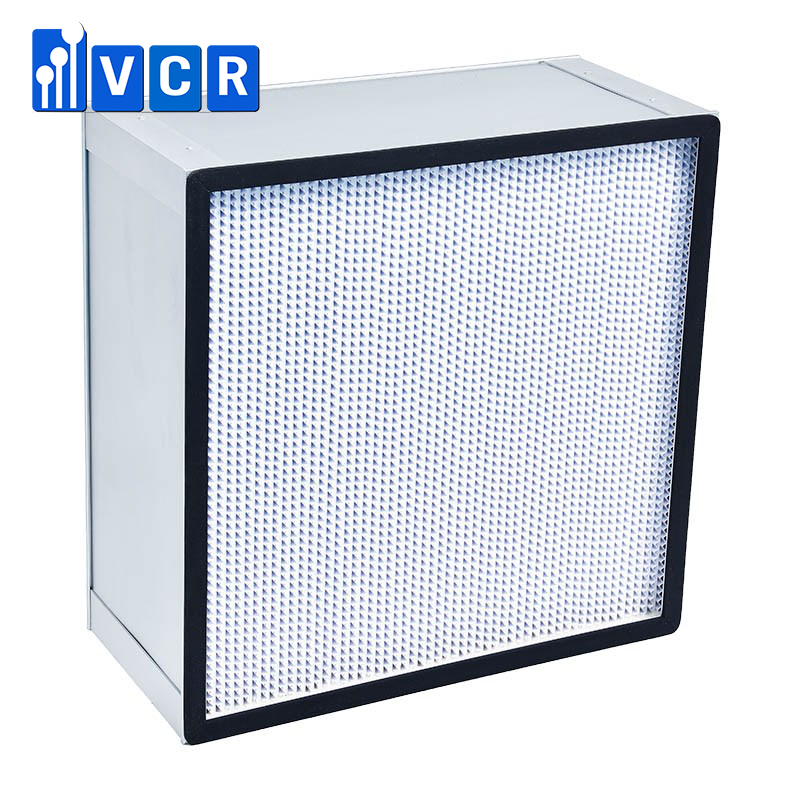 Image: HEPA filter
4. Air shower
Air shower is installed at the entrance to the cleanroom, using the principle of blowing clean air to remove dirt on people and objects before entering the cleanroom.
Air shower is a necessary device for every cleanroom, which reduces a vast majority of potential contaminants when personnel entering the cleanroom.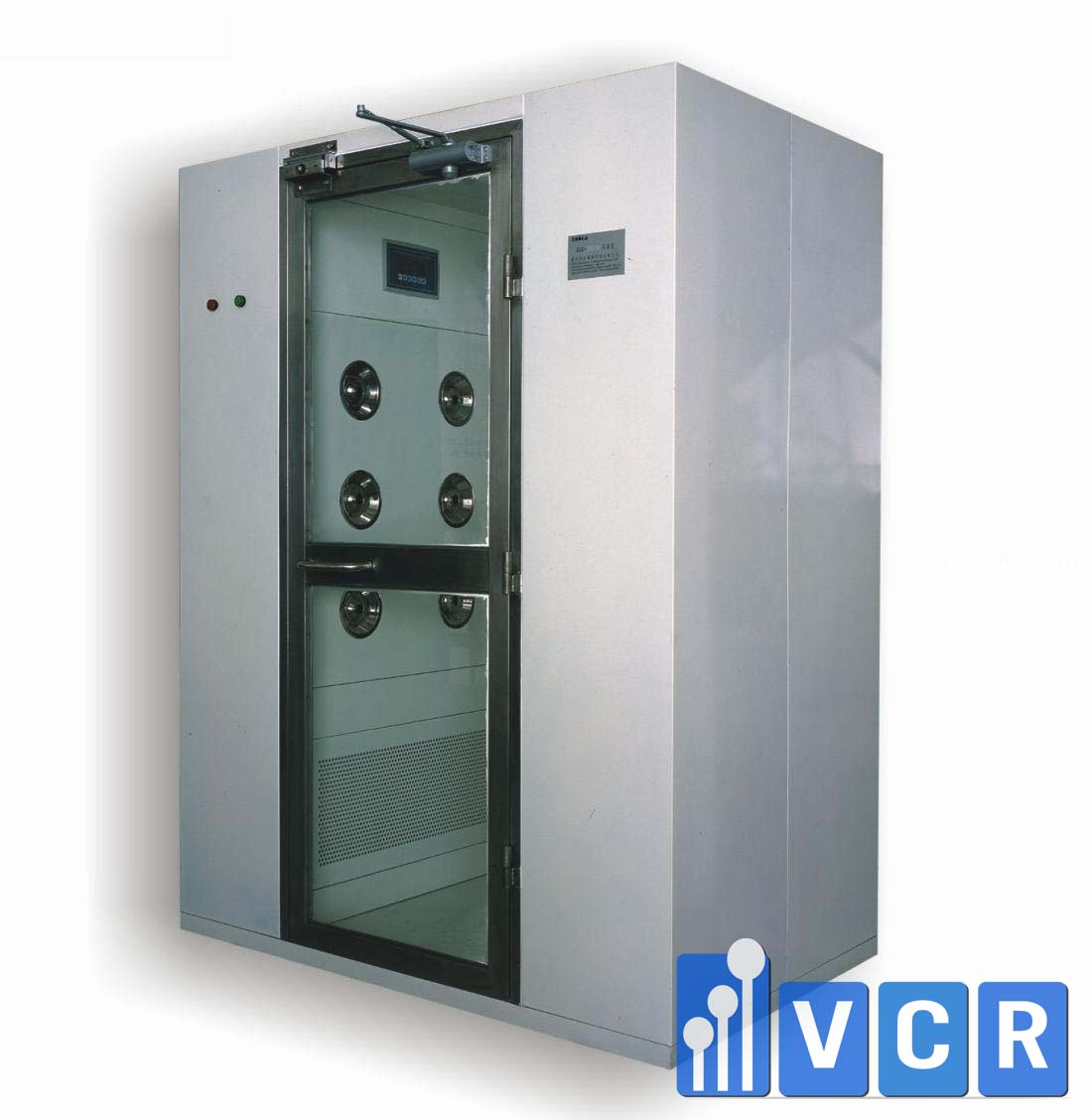 Image: Air shower
5. Fan filter unit (FFU)
FFU (Fan Filter Unit) is a motorized air purifier in cleanroom. It uses fans and filters to purify the air and provide clean air into the cleanroom without depending on the air handling system. FFU is widely used in class 10, class 100, class 1000, class 10000, and class 100000 clean rooms.
Read more: Fan filter unit (FFU): Top 10 frequently asked questions
6. Pass box
Pass box is a device installed between two clean rooms, which is used to transfer small objects and materials between two clean area. Pass box helps the process of transporting items faster and avoids opening the cleanroom door many times. Most of all, it effectively prevents cross-contamination in the cleanroom.
Pass boxes have two types: Static pass box and dynamic pass box. Static pass box is also known as standard cleanroom pass box and Dynamic pass box is a self-cleaning pass box.
A static pass box is usually installed between two cleanrooms of the same class. Dynamic Pass Box is usually installed between two clean rooms of different classes or between clean rooms and non-cleanrooms.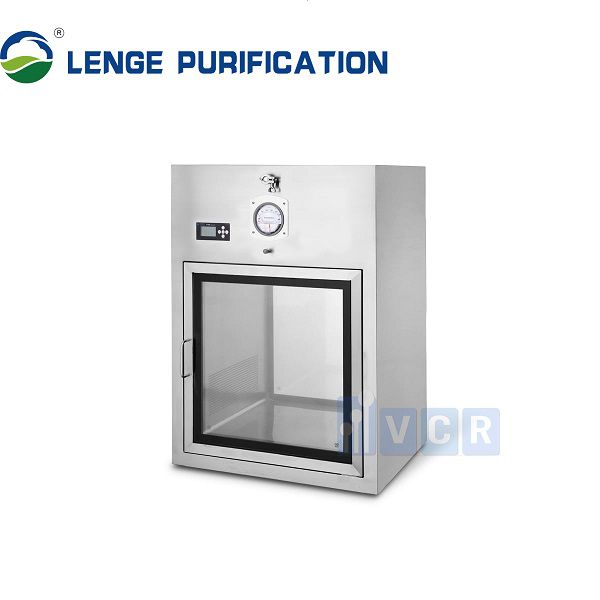 7. BFU - Blower filter unit
BFU is a fan-mounted filter unit installed on the cleanroom ceiling. BFU is a variant of FFU with two separate independent modules connected together by flexible hoses or couplings, facilitating connection to the air conditioning system, increasing pressure and airflow, and increasing air volume.
Image: BFU - Blower filter unit
8. Clean bench
Clean bench is a workbench with an airflow to provide clean air over the work surface thereby protecting against contamination.
Clean benches are originally created to complement cleanroom technology and are now being used across a wide range of industries including research, manufacturing, aerospace, bioengineering, pharmaceutical manufacturing, food processing, etc…
A clean bench is the recommended equipment for working with non-hazardous materials to avoid contamination. It ensures that the working chamber of clean bench is always filled with HEPA filtered air.
Image: Clean bench
9. Clean booth
Clean booth is a kind of cleanroom, which can be relocated. It is built to create a small space to maintain cleanliness easily, inexpensively.
Clean booth can be placed in a non-clean room but still reach a cleanliness class to reduce costs.
Currently, clean booths are applied to many industries such as Electronics, Biology, Chemistry, Pharmaceuticals, Food manufacturing,...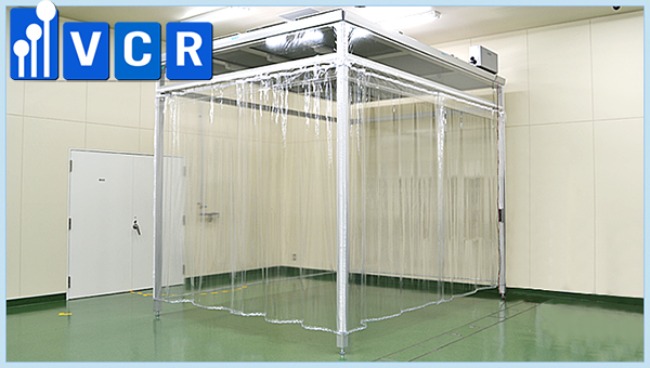 10. Cleanroom isolator - Biosafety cabinet BSC-III
Cleanroom isolator is a type of biosafety cabinet that creates clean air and almost completely isolates the product from technical staff, and the surrounding environment.
Cleanroom isolators or biosafety cabinets are commonly used in applications where a high level of protection from external elements or contaminants is required, and they can also replace high-class cleanrooms.
Image: Cleanroom isolator - biosafety cabinet in Viet Nam
Above are the most common cleanroom equipment in Viet Nam that VCR has synthesized. Hopefully, through this article, you will know more about cleanroom equipment.
Vietnam Cleanroom Equipment (VCR) specializes in providing clean room equipment for contractors in Vietnam. We provide high-quality products with competitive prices and large quantities nationwide.
For details, please refer to Vietnam cleanroom equipment official website
https://en.vietnamcleanroom.com
Or contact us via hotline: +84 90 123 7008 / +84 90 123 9008 (Whatsapp)
Related Articles