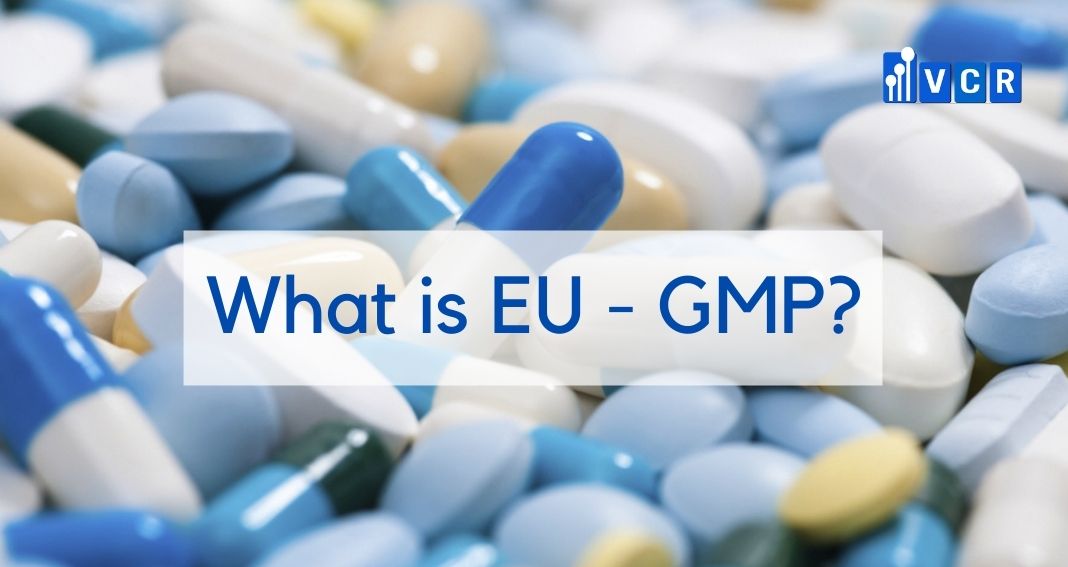 Pharmaceutical manufacturers, nowadays, consider EU GMP as a big step forward for their business. To integrate with the world and bring high-quality medicines to Vietnamese, Viet Nam pharma companies need to meet the strictest standards, and GMP EU is one of them. In this article, we will learn what is EU GMP and how to achieve EU GMP certificate.
Read more: What is GMP? - GMP in pharma industry
1. What is EU GMP?
EU GMP is Good Manufacturing Practices, promulgated by European Medicines Agency (EMA). EU GMP is the guidelines that pharma manufacturers must meet in their medicine manufacturing process.
Pharmaceutical manufacturing companies in Vietnam or any country outside EU to achieve EU GMP certificate need to have the consent of the inspectors and be granted EU-GMP certificate by EMA.
2. What is EMA?
EMA is European Medicines Agency, established in 1995. The head office is in Amsterdam, the Netherlands.
EMA is an agency of the European Union (EU) whose main role is to evaluate, authorize and monitor medicines for human and veterinary, circulating in the European Union and the Economic area. Europe. Medicines evaluation, authorization, and monitoring help ensure the safety and health of people and animals in Europe.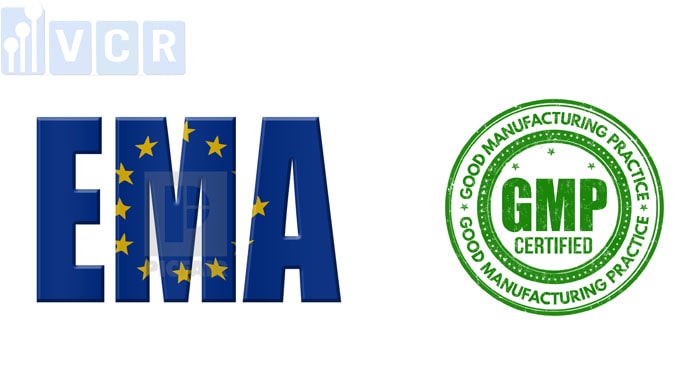 EMA also plays a key role in coordinating and harmonizing GMP activities at the EU level. It involves:
Coordinate the drafting of new and revised GMP guidelines;

Ensure a common interpretation of EU GMP requirements and related technical issues;

Develop EU-wide procedures for GMP inspection and related activities;

Facilitate cooperation among the Member States to inspect manufacturers in third countries.
3. What are EU GMP standards?
EU-GMP standard is a whole system of standards developed and issued to control activities in pharmaceutical facilities to ensure safety for the user, high-quality and safe output products. Currently, the EU GMP standard is one of the highest quality standards, which is difficult and expensive to achieve.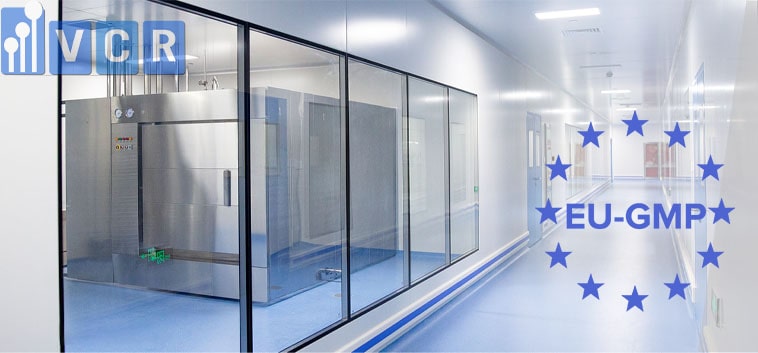 All EU GMP guidelines follow some basic principles as follows:
The manufacturing facility must maintain a clean and hygienic area.

Manufacturing facilities must maintain controlled environmental conditions to prevent cross-contamination from contaminants and allergens that could make products unsafe for human consumption.

Manufacturing processes must be clearly defined and controlled. All critical processes are validated to ensure consistency and compliance with specifications.

Manufacturing processes must be controlled and any changes to the process should be evaluated. Changes affecting the quality of the drug are controlled as needed.

Instructions and procedures must be written in clear and unambiguous language, using good documentation practices.

Operators must be trained to perform and document procedures.

Records shall be made manually or electronically during the manufacturing process to demonstrate that all steps required by the defined process and instructions were actually performed, and that the quantity and quality of food produced. product or medication is as expected. Deviations should be investigated and documented.

Production (including distribution) records that allow the entire history of a shipment to be traced must be kept in an understandable and accessible manner.

Any product distribution should minimize any risk to their quality.

A system must be in place to withdraw any lot from sale or supply.

Complaints about products placed on the market should be reviewed, investigated the cause of poor quality, and taken appropriate action against the defective product and prevented recurrence.
4. EU GMP certificate
What is EU GMP certificate?
GMP certificate is granted on the basis of GMP inspection results for production facilities operating in accordance with EU GMP standards.
The certificate is issued when all dossiers and documents about the inspection are submitted.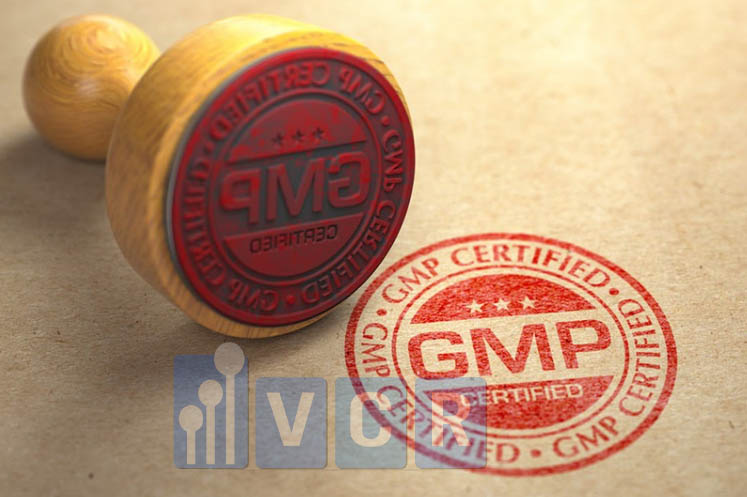 The EU GMP Certificatie declares the manufacturer's compliance with EU GMP standards. On the Certificate, reference to the date, month, and year of the most recent inspection, as well as the activities and legal basis are included.
Validity of EU GMP Certificate
EU GMP certificate is valid for three years from the date of the most recent inspection. However, its effectiveness may be shortened under special circumstances.
As the EU GMP Certificate refers to a specific inspection, the certificate cannot be renewed or certified unless a new inspection has been conducted and completed with full follow-up activity.
Format of EU GMP Certificate
The GMP certificate is issued in writing in PDF format and electronically sent to the responsible person or contact person at the inspected company. At the same time, the Certificate is uploaded to Eudra GMDP.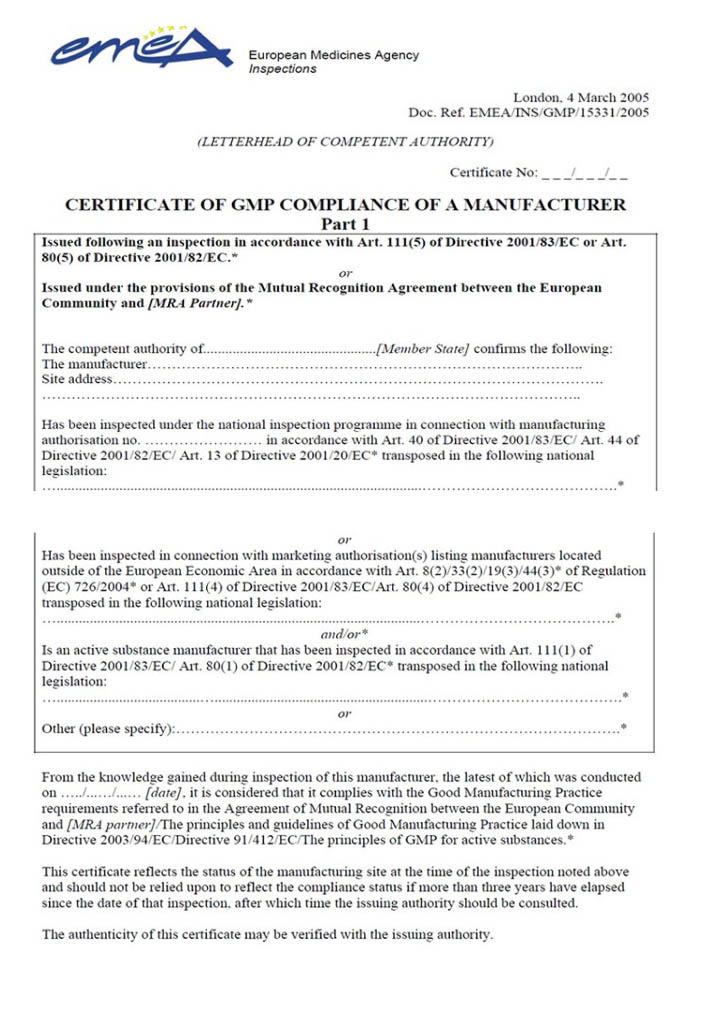 EU GMP certificate is no longer issued as a paper document. However, EMA may facilitate the issuance of copies of the EU GMP Certificate if the electronic version is not sufficient.
5. How to achieve EU GMP certificate?
Before entering the EU market, companies from the CIS region, the Middle East, Asia or Latin America which intend to export their products to the European Union must obtain EU GMP certificate. to the factory or their contract manufacturer.
To apply for the EU GMP certificate, pharmaceutical companies must follow these six steps:
Prepare administrative documents and production locations

Submit your application to the licensing authority in Europe

Arrange factory inspection appointments

Organize factory inspection by licensing agency

Purchase inspection report and GMP certification

Achieve EU GMP certificate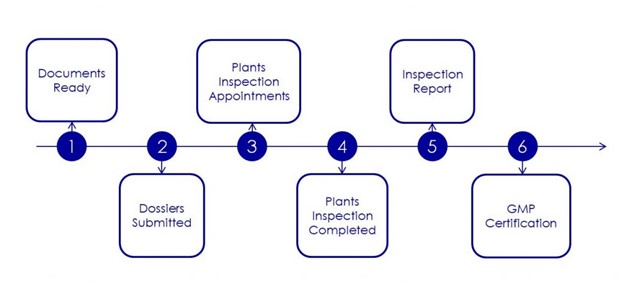 In addition, each shipment record must be accompanied by a written confirmation issued by the competent authority of the country of origin. This certification is intended to demonstrate that the country's standards are equivalent to European standards.
6. The benefits of EU GMP pharma companies
When drug manufacturers achieve EU-GMP or PIC/S-GMP certificate, it means that they now have stricter technical standards than other drug manufacturers. EU GMP facilities can get better prices, higher chances of winning bids and meet export requirements.
According to the current procurement regulations for the hospital and clinic channel, companies that have achieved EU GMP certification can bid for drugs in groups 1 and 2 (competing with multinational companies) for the bidding package. generic, while products that meet WHO-GMP standards can only compete mainly in group 3 or 5.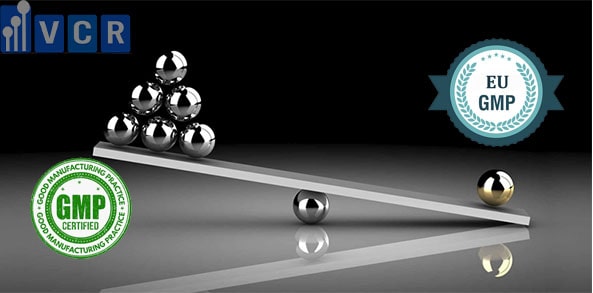 Upgrade from WHO-GMP to higher standards (EU-GMP and PIC/S-GMP) is necessary. EU-GMP helps manufacturers improve drug quality and increase competitiveness in the domestic pharmaceutical industry, and that is also an inevitable trend in the present and in the future. Therefore, understanding what is EU GMP, what are EU GMP standards, is extremely important in today's time.
Related Articles