Why do we need fan filter unit for cleanroom?

Why fan filter units are necessary for clean room?
Fan filter unit (FFU) is an air cleaning device, used to provide clean air to cleanroom in semiconductors, pharmaceutical, food manufacturing industries, or hospital, etc.
The filtered clean air is evenly sent out on the entire air supply surface with a fan at a wind speed of 0.45m/s.
The cleanliness level can be improved, noise and vibration can be reduced, operating costs can also be greatly reduced, installation and maintenance are easy, and it is an ideal clean air supply unit for clean rooms. This unit can be used in module connection.
FFUs are mainly installed on the ceiling of the cleanroom (25% to 100%). In large cleanrooms, the number of equipment needed ranges from hundreds to thousands.
Fan filter unit is widely used in clean rooms, clean benches, clean lines, clean wardrobes, prefabricated clean rooms. Fan filter unit supplies clean air to a clean environment and effectively controls particles.
The initial resistance of the HEPA filter in the fan filter unit is around 120-150Pa.

Under the condition that the HEPA filter has the initial resistance and the air velocity of the FFU air supply is 0.35m/s, the differential pressure of FFUs is about 100Pa, sometimes reaching 130Pa.
When the air velocity of fan filter unit is 0.45m/s, the external residual pressure of each unit is 60Pa or more.
When the air velocity of fan filter unit is 0.45m/s, the measured external residual pressure of the FFU can overcome the resistance in the circulation path.
The sound pressure level noise of FFU is mostly between 57dB and 59dB. The standard noise is 54dB(A).

The energy consumption of FFU is 160-180W, only a few brands have a large energy consumption, up to 350W, which is twice the general energy consumption.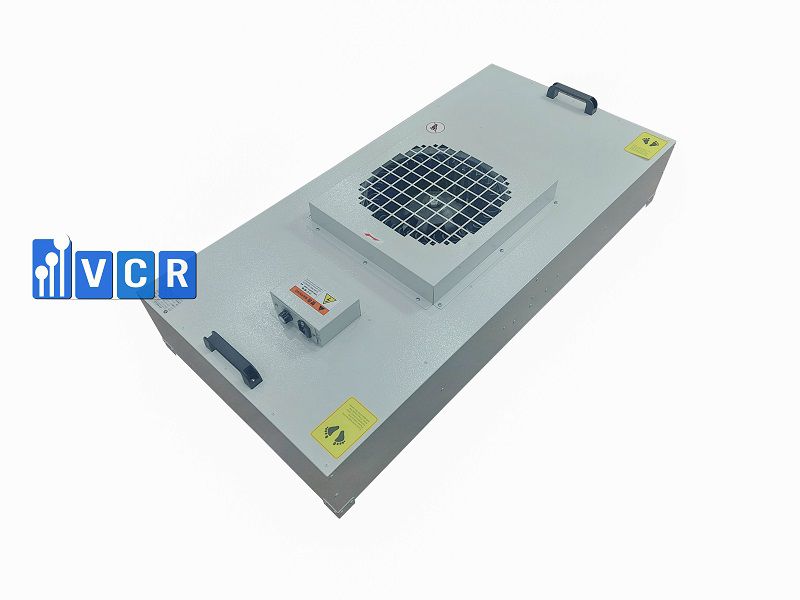 Vietnam Cleanroom Equipment (VCR) specializes in providing cleanroom equipment for construction contractors. We provide high-quality products with competitive prices and large quantities nationwide. The equipment includes:
Differential pressure gauge, FFU Fan Filter Unit, Pass box, Clean room air filter, HEPA box, Clean booth, cleanroom steel door, Isolator cabinet, and other equipment
For details, please refer to Vietnam cleanroom equipment official website
Related Articles